for Wednesday, 14 July 2010 [12:32 AM PhT]


---
CONSON (BASYANG) MAX WIND SPEED PER AGENCY:



+ USA (JTWC/1-min avg): 110 km/hr
+ Japan (JMA/10-min avg): 100 km/hr
+ Philippines (PAGASA/10-min avg): 95 km/hr
+ Korea (KMA/10-min avg): 110 km/hr
+ Hong Kong (HKO/10-min avg): 110 km/hr
+ Taiwan (CWB/10-min avg): 120 km/hr
+ Beijing (NMC/2-min avg): 120 kph
---
TROPICAL STORM CONSON [BASYANG/03W/1002]
T2K EMAIL ADVISORY NUMBER 007 12:00 AM PhT (16:00 GMT) Wed 14 July 2010Source: T2K Analysis/JTWC Warning #009View: Advisory Archives (2004-2010)
---
CONSON (BASYANG) downgraded into a Tropical Storm, but still packing some punch...currently making landfall along Northern Quezon as it moves towards Metro Manila. Strong winds and heavy rains now being felt across the metropolis.

*Residents and visitors along Metro Manila, Central & Southern Luzon should closely monitor the progress of CONSON (BASYANG).

*Do not use this for life or death decision. This advisory is intended for additional information purposes only. Kindly refer to your country's official weather agency for local warnings, advisories & bulletins.
Current Storm Information
Time/Date: 12:00 AM PhT Wed Jul 13 2010
Location of Center: 14.4º N Lat 121.7º E Lon
Distance 1: 25 km (13 nm) South of Real, Quezon
Distance 2: 80 km (43 nm) ESE of Manila
Distance 3: 70 km (38 nm) SE of Quezon City
Distance 4: 45 km (25 nm) South of Infanta, Quezon
Distance 5: 50 km (27 nm) ENE of Los Baños, Laguna
Distance 6: 135 km (73 nm) WNW of Daet, Cam Norte
Distance 7: 185 km (100 nm) NW of Metro Naga/CWC
Distance 8: 155 km (83 nm) SE of Subic Bay
MaxWinds (1-min avg): 110 kph (60 kts) near the center
Peak Wind Gusts: 140 kph (85 kts)
6-hr Rain Amounts (near the center): 250 mm [Very Heavy]
Minimum Central Pressure: 978 millibars (hPa)
Saffir-Simpson Typhoon Scale: TS
Present Movement: West @ 26 kph (14 kts)
Towards: Metro Manila
Size (in Diameter): 555 km (300 nm) / Average
Max Sea Wave Height (near center): 20 ft (6.0 m)
Coastal Storm Surge Height: 0-4 feet [0-1.2 m]
T2K TrackMap #009 (for Public): 12 AM PhT Wed Jul 14

+ Forecast Outlook:
CONSON (BASYANG) is expected to continue to track slightly Westward and will pass over the Metropolis in just a few hours (2-3 AM). The center will continue moving across the provinces of Bulacan, Pampanga & Zambales and will be over the South China Sea this morning [8AM JUL 14: 15.2N 119.9E]. The 3 to 5-Day Long-Range Forecast shows the system making its final landfall on Saturday morning along Southern China or just west of Macau. Please be reminded that the Forecast Outlook changes every 6 hours, so
a turn to the left or right of its future track and other possibilities must be considered
.
+ Effects & Hazards:
CONSON's (BASYANG) dissipating eyewall is now passing over Northern Quezon and into Metro Manila. High winds w/ moderate to heavy rainfall can be expected this early morning. Meanwhile, its inner and outer bands will continue to spread across Southern Tagalog Provinces and portions of Central Luzon.
6-hr total rainfall amounts of 5 up to 150 mm (light, moderate to heavy rain) can be expected along the outer and inner rainbands...with isolated amounts of up to 250 mm (very heavy) near the center of CONSON. Click here to view the latest NOAA's eTRaP graphic on the storm's rainfall amount.
People living around the slopes of Mayon Volcano in Albay & of Bulusan Volcano in Sorsogon - especially along the areas where possible MUDFLOWS (LAHAR) FLOWS (mixture of volcanic mud and water) are located must stay alert as moderate to heavy rains associated by this system are likely to affect the area beginning late today until early tomorrow.
Residents in low-lying areas & steep slopes must remain alert & seek evacuation for possible life-threatening flash floods, mudslides & landslides due to the anticipated heavy rains brought about by this system. Precautionary measures must be initiated if necessary. Possible coastal Storm Surge flooding of 1 to 4 feet above normal tide levels...accompanied by large and dangerous battering waves...is possible along the coastal areas of Southern Tagalog Provinces, Northern Quezon, and Manila Bay. Very minimal damage is likely on this type of storm surge.
[
Important Note
: Please keep in mind that the above forecast outlook, effects, current monsoon intensity, & tropical cyclone watch changes every 6 to 12 hrs!]

---
PAGASA's Philippine Storm Warnings Signals


PHILIPPINE STORM WARNING SIGNAL # TWO (2)

In Effect:
Camarines Norte, Northern Quezon, Rizal, Aurora, Nueva Ecija, Cavite, Lubang Is., Laguna, Batangas, Bataan, Pampanga, Zambales, Tarlac, Pangasinan, Bulacan, Metro Manila.
The above areas will experience stormy weather tonight until tomorrow (with winds not exceeding 100 kph for #02). Coastal waters will be rough to very rough and extremely dangerous to all types of seacrafts.
PHILIPPINE STORM WARNING SIGNAL # ONE (1)


In Effect: Catanduanes, Camarines Sur, Rest of Quezon, Marinduque, Nueva Vizcaya, Isabela, Ifugao, Benguet, La Union.

The above areas will have rains and winds of not more than 60 kph can be expected tonight until tomorrow. Coastal waters will be moderate to rough.

Residents living in low-lying and mountainous areas under Public Storm Warning Signal Numbers 1 & 2 are alerted against flashfloods, mudflows, mudslides and landslides...while those living in coastal & beach-front areas are advised to seek higher grounds due to possible storm surge (aka. big waves).
---
External Links for TY CONSON (BASYANG)View NOAA-CIRA's Latest Wind Analysis
JTWC Latest
Tracking
Chart:
wp0310.gif
Multi-Agency Forecast
Track
Map:
11 PM Tue Jul 13
TSR Wind Probabilities:
Current to 120 hrs Ahead
Zoomed Satellite Pic:
NOAA's Near Real-Time
Wunderground Animation:
6-12 hr. GIF Loop
---
JTWC (US NAVY & AIR FORCE) REMARKS:

REMARKS (for Meteorologists): 8 PM (12 GMT) TUE 13 JULY POSITION: 14.5N 122.2E.
*ANIMATED MULTISPECTRAL SATELLITE IMAGERY INDICATES SLIGHT
WEAKENING DUE TO LAND INTERACTION AND MODERATE NORTHEASTERLY
VERTICAL WIND SHEAR (VWS). HOWEVER, A 130455Z AMSR-E 36 GHZ IMAGE
SHOWS A SMALL SYSTEM WITH TIGHTLY CURVED BANDING WITH A SMALL
MICROWAVE EYE FEATURE. THIS SIGNATURE ALONG WITH DVORAK ESTIMATES
RANGING FROM 45 TO 77 KNOTS SUPPORT THE CURRENT INTENSITY OF 65
KNOTS. THERE IS GOOD CONFIDENCE IN THE CURRENT POSITION AND MOTION
BASED ON THE AMSR-E IMAGE. TY 03W CONTINUES TO TRACK WESTWARD TOWARD
MANILA UNDER THE STEERING INFLUENCE OF A STRONG MID-LEVEL
SUBTROPICAL RIDGE (STR) POSITIONED NORTH OF THE SYSTEM. UPPER AIR
DATA FROM LAOAG (98223) AND XISHA DAO (59981) INDICATE STRONG UPPER-
LEVEL EASTERLY FLOW AT 45-70 KNOTS ACROSS THE NORTHERN SOUTH CHINA
SEA. THEREFORE, TY 03W IS EXPECTED TO CONTINUE TRACKING WESTWARD
ACROSS SOUTHERN LUZON BUT SHOULD TURN WEST-NORTHWESTWARD TO
NORTHWESTWARD AS IT APPROACHES THE SOUTHWESTERN PERIPHERY OF THE
STR. THE MAJORITY OF THE MODEL GUIDANCE SUPPORTS THIS TRACK WITH THE
EXCEPTION OF THE GFS, WHICH DEPICTS AN ERRONEOUS NORTHWARD TRACK
TOWARD TAIWAN. TY 03W IS FORECAST TO WEAKEN SLOWLY THROUGHOUT THE
FORECAST PERIOD (BUT SHOULD MAINTAIN MODERATE TROPICAL STORM
STRENGTH OVER THE WARM WATER) DUE TO THE MARGINAL ENVIRONMENT
CHARACTERIZED BY STRONG NORTHERLY VWS ASSOCIATED WITH THE STR
ENTRENCHED OVER SOUTHERN CHINA. TY 03W WILL MAKE LANDFALL SOUTHWEST
OF HONG KONG NEAR TAU 72 AND WILL DISSIPATE OVER LAND AFTER TAU 96....(
more
)


>> 
CONSON,
 meaning: A historical place. Name contributed by:
 Vietnam.
_______________________________________________________________________________________________________________________________________
PAGASA CURRENT POSITION, MOVEMENT AND INTENSITY (10-min. ave.):
> 4 PM (08 GMT) TUE 13 JULY: 14.4N 123.3E / WEST @ 22 kph / 120 kph
:: For the complete PAGASA bulletin, kindly visit their website at:    
http://www.pagasa.dost.gov.ph/wb/tcupdate.shtml
_______________________________________________________________________________________________________________________________________

RECENT TYPHOON2000.COM TRACKING CHART
: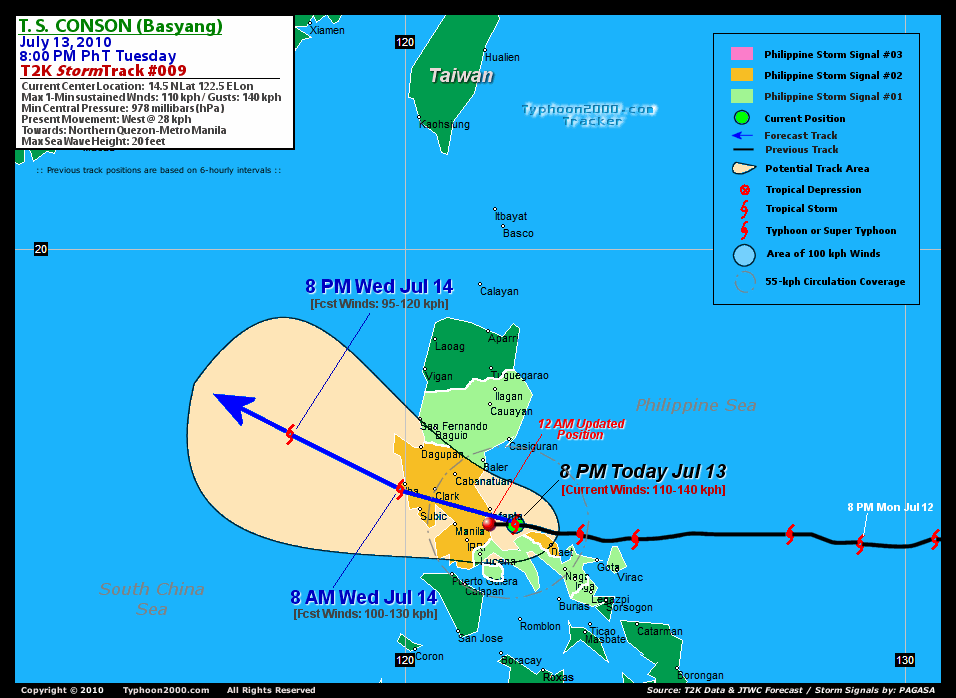 _________________________________________________________________________________________________________________  
RECENT MTSAT-1R "DAY & NIGHT VISION" SATELLITE IMAGE
:

> Image source:  NOAA SATELLITE CENTER 
____________________________________________________________________________________________________________________

RECENT WUNDERGROUND SATELLITE ANIMATION
: 

> Image source:  Wunderground.com (
http://www.wunderground.com/
)
____________________________________________________________________________________________________________________
LATEST 6 HR. TOTAL RAINFALL AMOUNTS / ENSEMBLE TROPICAL RAINFALL POTENTIAL (eTRaP):  
> Image source:  NOAA Satellite & Information Service (
http://www.ssd.noaa.gov/PS/TROP/etrap.html
)____________________________________________________________________________________________________________________
__,_._,___
--
To post, send email to dyab1512@googlegroups.com
Visit Us at
http://groups.google.com/group/dyab1512?hl=en
DYAB Cebu Live Webcast:
http://tinyurl.com/abcebu
DYAB Web Log:
http://dyab-cebu.blogspot.com/
Chat with Us: Our account name is dyab1512 for Yahoo Messenger, Google Talk, ICQ, Skype, GMail Chat and MSN Messenger